Sheath Tubing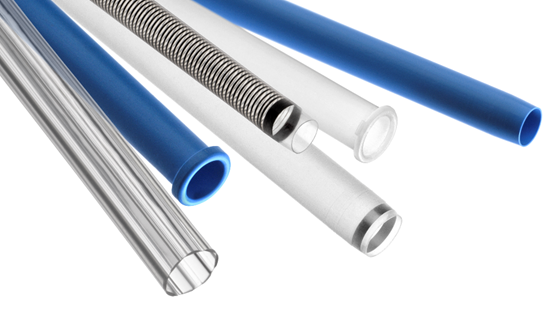 DTC has extensive experience in extrusion solutions and sheath PTFE tubing for the global medical device community. Our solutions portfolio, fluoropolymer and thermoplastic, are suitable for many applications, especially with minimally invasive delivery devices like Medical Catheters. Our tubing has different medical applications and get used as a part of various medical devices. Infusion Technology, Cardiovascular EP/CRM/Structural Heart/Pheripheral Vascular, Urology, Endoscopy and Gastroenterology, Neurovascular, Gynaecology Lab and Analytics.
Deep Medical Tubing Expertise
The tubing line of DTC has enlarged to include specialized items such as polyimide tubing, PTFE tubing, and a full range of single and multi-lumen, multi-layer extruded tubing
The ultrathin, high-strength, and intensely precise heat-stabilized non-shrink tubing, perfect for precision sheaths or covers, catheter tubing and liners, insulating sleeving, and viewing windows, remains dimensionally resistant at high temperatures as 100°C (212°F) or higher
Polyimide & Composite Film Cast Tubing
DTC has a broad and versatile medical tubing line. Our large selection of polyimide tubing features: Very thin wall thickness, Tight-tolerance inner and outer diameters, Outstanding electrical insulation properties, Stiffness and column strength as required, Ability to withstand very high temperatures, 81 different layering and custom composite configurations.
Applications of Polyimide
Retention sheath for self-expanding stents, Expanded lumen for balloons, Suction lumen for atherectomy devices, Liner material for lumens that contain catheter-steering wires, Low-diameter guidewire designs or guidewire outer sheaths, High-temperature or gamma radiation-resistant tubing applications, Applications requiring great tensile strength, torque transmission, or column rigidity and accurate wire coating.
PTFE Tubing
PTFE is processed using a sintering method, where the material is heated to a temperature below its melting point for an extended period of time. PTFE was the first fluoropolymer to be discovered. It is also the most difficult to process. Because it The PTFE crystals unravel and interlock with each other, allowing the plastic to take the shape it is intended to take.PTFE has been used in the medical industry since the 1960s. In the present time, it is ordinarily being used for split-sheath introducers and dilators. In addition to this, it is also used for lubricious catheter liners and heat shrink tubing.Due to the chemical strength and low coefficient of friction, PTFE is considered an ideal catheter liner.
PTFE (polytetrafluoroethylene) provides a lubricious inner layer ideal for catheter applications that require low friction for enhanced: Guidewire tracking, Balloon protectors, Fluid flow, Liner, Steering wire tracking. Passage of other devices, Irrigation, Introducer sheaths, Fluid transfer tubing.
Properties of PTFE
PTFE has the lowest coefficient of friction of any polymer, making it a popular choice for catheter applications that require lubricity. What it also features is the temperature and chemical protection biocompatibility explicit tolerances high dielectric strength sterling insulative properties.
Extruded Tubing
DTC has a rewarding track history of delivering high-precision, and specialized extruded tubing to the medical device industry. We also provide high-performance tubing for detracting applications in the medical industry. We offer medical-grade extruded tubing with expanded in our facilities with less than two weeks lead time on new projects specific to multi-layer PTA/PTCA applications, single-lumen, and multi-lumen tubing. We also scale to your production needs with ISO 13485 certified manufacturing facilities, and Class 8 qualified production cleanrooms.
Single-Lumen Extruded Tubing, Multi-Lumen Extruded Tubing, Multi-Layer Extruded Tubing, Co-Extruded/Stripe Tubing, Fluoropolymer Extruded Tubing, PEEK Extruded Tubing, Tapered & Bump Extruded Tubing, Profile Extruded Tubing
Features
Biocompatibility according to USP VI
Size, color and hardness can be custom tailored to your requirement
Materials: FEP, ETFE
Excellent radiopaque visibility, radiopaque options: Ba2SO4, Bi2O3
Smooth surface, good bending resistance
Hydrophilic coating compatible
Easy for tip forming process