GUIDE CATHETER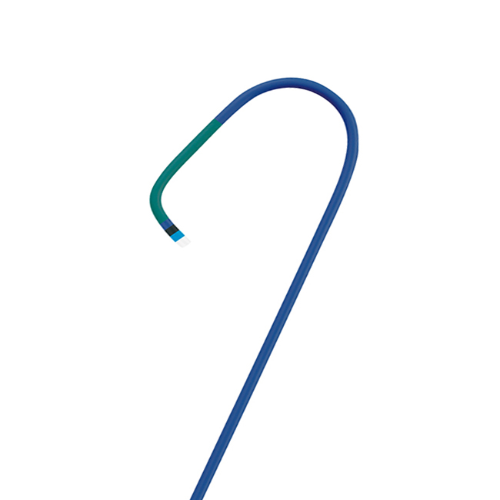 A Guide catheter makes it easier to enter that vessel with other devices or instruments. Guide catheters are used to facilitate the placement of lasers, stents, and balloons for angioplasty.
An optimal guide catheter support is vital for successful interventional cardiology. The ideal guide catheter has an atraumatic soft tip, excellent torque control, adequate support, and low surface frictional resistance for good trackability of devices.
Guide Catheter features:

Wire braided construction for high torque, stability and control.
Multi-durometer sections provide varying degrees of flexibility.
Soft atraumatic bumper tip minimizes damage to vessels and tissue.
A combination of a large lumen and thin wall enables ease of passage through complex anatomy.
Low friction PTFE liner that supports the smooth delivery of guidewires or high viscosity fluids.
Excellent catheter shape retention provides maximum reliability for prolonged operation.
Most frequently used diagnostic coronary catheter shapes: LCB, RCB, EBU,Amplatz Left, Jacky, Tiger, Judkins Right (JR), Multipurpose A2, IM, IM VB-1,Judkins Left (JL),3D LIMA
Our Service:
Sizes from 4F – 8F
Widely available choice of guide catheter shapes
Customizable braid patterns and color

Value-added services:

Tip forming, flaring, bonding, hydrophilic coating, embedded platinum/gold marker bands, tungsten fillers and marker bands, hub and strain relief attachments, printing.
Catheter Materials: Pebax, PTFE, Nylon, FEP, PU, HDPE, ETFE
Wire Type: Round, Flat, Hybrid (Round & Flat)
Wire Materials: Stainless Steel, Nitinol, Copper, PEEK, Nylon
Braid Patterns: Diamond, Regular, Half Load, Coil
Other common DTC products: Angiographic catheters, Balloon tubing, Braided catheter assemblies, Extension tubing, Introducer sheaths and dilators PTFE lined catheters, IV catheters, Insulin delivery tubing, Peripheral intervention catheters.