Peek Tube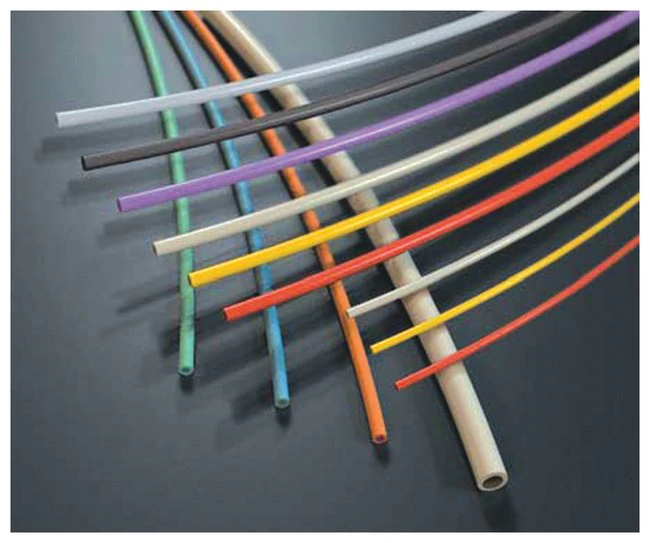 Polyether ether-ketone(PEEK) is a thermoplastic polymer with properties ideally suited to medical applications. It is a biocompatible material with high tensile strength, temperature resistance, and radiopacity, while also allowing for various type of thermoforming modifications. Our manufacturing partner has the expertise to custom tailor the mechanical properties of extruded PEEK to meet your most exacting requirements.

Properties: Outstanding mechanical properties, great chemical resistance, low friction coefficient.Good insulation strength, hydrolysis resistance, radiation resistance, and good biocompatibility. PEEK tube is often used in products that have high firmness and high-temperature demand in medical devices.
The high-pressure tubing of DTC includes bioinert PEEK which is formally known as poly ether ketone.PEEK is a high-performance engineered polymer that has both chemical and mechanical resistance properties riveting high temperatures. This makes it highly resistant to thermal deterioration. PEEK tubing has one of the highest durability to weight ratios of any thermoplastic and the support required to resist the continued use at HPLC pressure. There are specific materials of the PEEK tube that make it passive to most of the solvents and also provide a smooth internal surface, improving the resolution of sample bands.
Features
Biocompatible, USP Class VI compliant
Resistant to thermal degradation at high temperatures
Excellent pushability
High tensile strength
Chemical inertness
Low moisture absorption
High flexural strength
Advantages of PEEK Tube:
Pliable, Lightweight, Exquisite mechanical and chemical support, Steady Internal Surface, Easy cut to desired lengths, A substitute for stainless steel tubing, it is available in various sizes and color schemes, Bioinert, and High-Temperature Resistance