静脉留置针套管OEM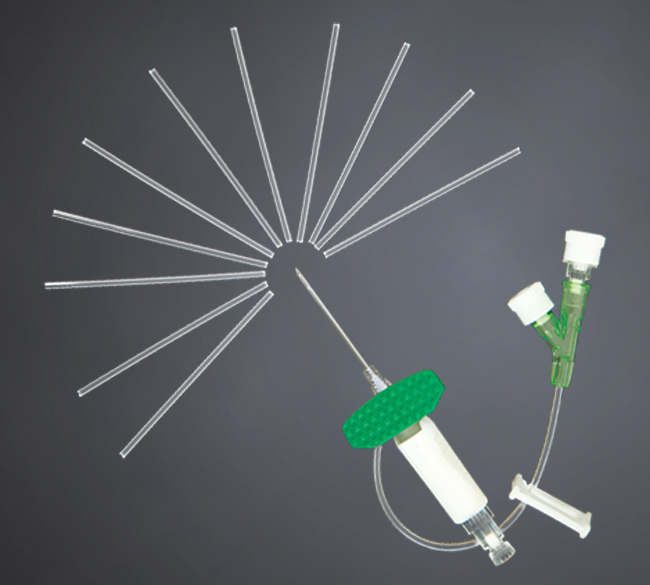 DTC, a global pioneer in medical tubing manufacturing, proudly offers its Oem IV Catheter Tubing, a product that has quickly become the preferred option for IV catheter producers worldwide. We have risen to the top of the medical tubing sector because of our dedication to accuracy, creativity, and quality. Healthcare personnel may ensure correct and safe interventions with our cutting-edge radiopaque IV catheter tubing, therefore improving patient care standards.
DTC's IV Catheter Tubing Features: Precision, Customization, and Efficiency
Our OEM IV Catheter Tubing is more than just another medical tubing; it's a monument to DTC's commitment to quality. Here's what makes our IV medical tubing unique:
Precision-crafted FEP/PU Radiopaque Tubing: Our FEP/PU radiopaque tubing guarantees clear visibility and accuracy during medical operations.
Size Customization: We recognize that each medical treatment is unique. As a result, we provide customizable sizing alternatives to ensure the best fit and functioning for a wide range of medical demands.:
Increased Yields: Our innovative production techniques provide maximum product yields, ensuring you receive the most bang for your buck.
Cost Competitiveness:: At DTC, we believe in providing superior items at a reasonable price. Because of our efficient production techniques and economies of scale, we can provide our IV catheter tubing at low prices.
Why Choose IV Tubing from DTC?
Here is why you should only be selecting IV catheter tubing from DTC:
Industry-Leading Performance
In terms of performance, IV Catheter Tubing is unrivaled in the medical tubing business. Our tubing is engineered to fulfil the stringent requirements of healthcare experts, assuring excellent results in every surgery.
High Resistance Levels: Our tubing has industry-leading resistance levels, with resistance levels as low as 0.02mm. This assures endurance and durability, even in the most demanding medical conditions.
Sizes to Fit Every Need: We offer a full range of gauges ranging from 14 to 26-gauge tubing to meet the individual demands of our clients. Our IV tubing is suitable for both pediatric and adult procedures.
Superior Radiopaque Visibility: Our IV Catheter Tubing's radiopaque visibility allows healthcare personnel to monitor the tubing's location with exceptional clarity, improving safety and accuracy.
Unmatched Quality Assurance
At DTC, quality is more than a phrase; it's a guarantee. Our OEM IV Catheter Tubing is subjected to stringent quality controls to guarantee that it meets the highest standards of perfection.
Comprehensive Reporting: We deliver thorough statistical statistics, including production charts by lot, to our clients, providing them with a clear picture of product quality and consistency.
Class 100K Cleanroom Production: We create and package all of our IV tubing in class 100K cleanrooms, providing a sterile and contamination-free product.
100% Traceability: We believe in openness. As a result, we provide 100% traceability on all of our goods, allowing our customers to track the origin and quality of every IV catheter tube they purchase.
Exceptional Services and Client Relations
DTC's client relationships extend beyond simply selling things. We are dedicated to providing great service that adds value at every stage.
Rapid Lead Times: In the fast-paced field of medicine, time is essential. We take pleasure in having the lowest lead times in the IV catheter tubing market, guaranteeing that our clients receive what they require when they require it.
Expert Technical Assistance: Our highly qualified engineering team is constantly on call to give global on-site assistance, guaranteeing that our IV tubing is seamlessly integrated and used.
Flexible Supply Options: Whether you require tubing in spools or chopped sections, we can help. What's more, the finest part? We provide these solutions at no additional cost.
Optimized Secondary Processes for IV Tubing
DTC's Oem IV Catheter Tubing is developed to excel in secondary and primary operations, assuring total efficiency.
Advanced Forming Techniques: Our tubing is intended for simple and accurate forming, allowing it to adapt appropriately to unique medical needs.
Efficient Bonding: The materials and design of our IV tubing allow for strong and permanent bonding, which is essential for long-term performance.
Reflow Capabilities: Our IV Catheter Tubing is developed for reflow procedures, ensuring easy integration into a variety of medical applications.
Premium Material Composition:
The composition of our IV medical tubing contributes to its robustness. DTC crafts its goods using only the finest materials.
Variety of Materials: Our IV tubing is produced from a varied choice of high-quality materials, including Pebax, Nylon, and Polyurethane, assuring durability and adaptability.
High-Quality Standards: Every material we use is rigorously tested to ensure it meets our quality standards, ensuring the best product for our customers.
Diverse Applications of IV Catheter Tubing: Guidewires, Catheters, and Beyond
Our IV Catheter Tubing is not restricted to a single use. Because of its adaptability, it may be used for a variety of medical operations.
Guidewires: The accuracy and longevity of our tubing make it perfect for use in guidewires, enabling exact interventions.
Guide Catheters: Our tubing is ideal for guiding catheters because of its high radiopaque visibility and bespoke sizes, assuring safe and successful treatments.
And More: The options are limitless! Our IV Catheter Tubing is the preferred choice of healthcare professionals worldwide for angioplasty and other interventional treatments.
Explore DTC's Comprehensive Medical Product Range
DTC offers a wide choice of medical items in addition to IV Catheter Tubing, all of which are developed with the same dedication to quality.
Angiographic Catheters, Balloon Tubing, and Other Supplies: Dive through our vast product line to find solutions adapted to your medical need.
Engage with DTC: Your Trusted Partner for High-Quality IV Catheter Tubing Solutions
Join hands with DTC to improve your medical processes. Our staff is here to help, advise, and give the best IV Catheter Tubing solutions possible.
Expert Advice: Do you have any questions? Our skilled staff is here to help you every step of the way.
Customized Solutions: Every medical treatment is unique, and our solutions are as well. Inform us of your exact requirements, and we will modify our goods to meet them.